Book a storm chasing vacation with Brandon Ivey from Discovery Channel's StormChasers series. I will get you on the best storms! Brandon has been chasing tornadoes since 1997 and has a degree in meteorology. He was instrumental in helping Sean Casey and TIV2 to obtain footage to complete his IMAX movie "Tornado Alley". Put your trust in me this season, to not only show you the most amazing storms, but to give you the best storm chasing vacation you can possibly get. -StormChasingTour.com
Logo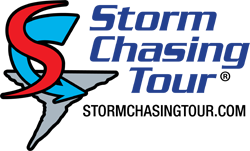 E-mail
info@stormchasingtour.com
Reviewed by StormChasingUSA.com?
No
Why choose StormChasingTour.com?
I have a proven track record of finding tornadoes. My success rate is very high. I give you the best experience for your money. My tours are not only educational, but I take the time to make friends with each guest. I have the experience to keep you safe. I want to give you a great show, but I always error on the side of caution to keep you safe.
Company name
Storm Chasing Tour LLC(Valley Center, Kansas)
Scheduled group tours
Tours in 2018
| Tour Name | Start Date | End Date | Price |
| --- | --- | --- | --- |
| Tour #1 | 2018-05-13 | 2018-05-18 | $2700 |
| Tour #2 | 2018-05-20 | 2018-05-25 | $2700 |
| Tour #3 | 2018-05-27 | 2018-06-01 | $2700 |
| Tour #4 | 2018-06-03 | 2018-06-08 | $2700 |
| Tour #5 | 2018-06-10 | 2018-06-15 | $2700 |
Please note that...
All information given about the tour operator and their tours are second hand information and could be outdated and erronous. The latest, and most correct, information can always found and validated on the StormChasingTour.com website
The start date does not necessarily mean it is a chase day, although this is typically the case. The end date could be a chase day but typically, it is not.
Do not schedule your flight according to the dates given here. Always double check this with the tour operator before you book your flight!
Prices could be subjected to discounts.
The tours could be full and you may not be able to book it.
Write a review of StormChasingTour.com
If you have been on a tour with StormChasingTour.com, please write a review.
Reviews of StormChasingTour.com
The reviews here have been validated, meaning that the reviewer has proven that he or she participated in the actual tour.
Name:
flying_727
Tour:
Tour #6
Year:
2015
Blogged about the tour:
Read more
General review
I had tornado/storm chasing on my bucket list for 10 years. When I saw Brandon Ivey and Marcus Gutierrez from Discovery's Storm Chasers were starting their own company offering tours I finally decided to book my 2 week storm chasing vacation as my 30th birthday present to myself. If you are a fan of the Storm Chasers show, these guys are very willing to discuss the events of the show and provide more background and context to what you see on TV. These guys are dedicated to storm chasing and providing a great experience for their customers. They do things a little different than some of the other companies: nicer hotels than others (Quality, La Quinta, Holiday Inn Express, etc.), when storms allowed, we sat down for lunch and dinner rather than gas stations and fast food, and my favorite par is that when all the other tour companies were watching from miles away from the storm, Brandon and Marcus got us safely within a few hundred yards of several tornadoes when the roads and storm allowed. If you want to experience tornadoes not just see them, I suggest you book with Stormchasingtour.com
Tour guide review
Brandon is a great meteorologist and managed to get us on 15 tornadoes during my 2 week trip. Even on days with low tornado probability, Brandon would still find the best storms, namely the ones with tornadoes. He also spends a lot of time describing all of the models used in his forecasting and how he compares his forecast to the SPC before deciding where to go as well has describing what to look for in the sky. He didn't always agree with the SPC, and on several occasions that work in our favor. Marcus, the driver, is also very experience chasing tornadoes (since he's driven into several). He has a lot of stories to share and was always making sure everyone needs were taken care of. He was able to get us much closer to storms than the other tour companies will get you.
Vehicle review
The van is new and comfortable and is always cleaned between tours. It has a monitor in the back so you can see what Brandon, the meteorologist, is looking at (not all tour companies do). They also have a hail guard on the roof so you can drive directly into the hail core so you can see and experience large hail (baseballs or greater),
Comment on this review
Name:
Tim Maynard
Tour:
Tour #2
Year:
2015
General review
My first tour was a great learning experience. The guys collected me at the airport and we got acquainted over dinner the first evening. Each evening at dinner we'd get a preliminary briefing of the plan for tomorrow's chase, which would the be confirmed over breakfast and we'd be shown the models for the day. The long drives to the days target area were actually good for hearing stories of chases and intercepts the guys had been involved in. Was like being on a tour with good friends. Many storms were found, but the highlight is of course the Tornadoes we observed on May 7th, my birthday. Felt extremely safe at all times. Never has to worry about a thing as I had complete faith in the guys. Highly recommend this tour company...I'm going back again in 2016 🙂
Tour guide review
Brandon and Marcus were great to tour with. Both are incredibly knowledgeable while at the same time making things very easy for a novice like myself to understand. They made the trip not only educational, but also a ton of fun.
Vehicle review
The StormChasingTour van was very spacious and comfortable for the many hours and miles of travel. Roomy enough to stretch out for a mid afternoon nap. Plenty of windows to see all the action.
Comment on this review
Name:
fenna
Tour:
Tour #8
Year:
2015
General review
perfect explanation of what to expect, how to read charts. Good hotels and restaurants where you could get normal food in stead of junk food. perfect teamwork driver/chaser. Very professional. Never been scared in the car while driving in bad weather, never been scared outside the car as the team took the necessary precaution and avoided any risks.
Tour guide review
as said before perfect team to go chasing with
Vehicle review
very comfortable. Promised snacks and water were on board.
Comment on this review
Name:
Mike Shuck
Tour:
Tour is not registered
Year:
2015
General review
If there were a single drop of water in the entire Sahara desert, Brandon Ivey of stormchasingtour.com could find it. And he'd tell you within a few seconds at what time you'd be driving up to it. Same with tornadoes. I told Brandon up front that I was there to learn as much as I could the process of tornado formation but of course I wanted the experience of being in the presence of tornadoes as well. He did both. He answered my questions thoroughly and he took us to some amazing tornadoes. He understands the risks and minimizes them intelligently. I never felt my safety threatened at all on the entire tour. I had expectations of what the trip would be like, you know, as if I'd ever seen the movie, "Twister". (Ok, I've seen it 86 times ... but who's counting?). One of the guys on the tour was so happy with it that he's coming back next year for TWO weeks, not just one. The accommodations were fine. We went to restaurants where I ordered food I like. Plenty of pit stops when needed. The van is big, not a standard soccer van. Seats were super comfortable which your butt will thank you for because you're going to go a lot of miles. Huge windows in the van and they're moderately tinted so there are no headaches from squinting. It was amusing to see other storm chasers come up to Brandon and ask for his autograph. They recognized him from all the years he was on The Discovery Channel's Storm Chasers series and from being in the IMAX movie, "Tornado Alley". Oh, to be traveling along with the famous. Nobody wanted my autograph. They wanted to know what it was like to be toured by Brandon Ivey. Well, I'll tell you. It was pretty darn great and to prove it I'm going again next year. Maybe next year Brandon will once again get us to the most fantastic tornado and again beat Reed Timmer to it by 10 minutes as he did this year
. I can't wait.
Tour guide review
He knows everything about tornadoes. After a tour with him I know far more about tornadoes than I ever did.
Vehicle review
Ahhh.. comfy. Road like a cloud. Fast, too! Monitors show you exactly where you are as well as the weather. Snacks were provided.
Comment on this review
Unvalidated reviews of StormChasingTour.com
The reviews in this section has not been validated. This means that no evidence has been shown that the person actually was on the tour. Read them with a healthy dose of skepticism.
- This review has not been validated -
Name:
Renato D'Addio
Tour:
Tour #6
Year:
2015
General review
Booking was easy, very professional and all questions were fully and promptly addressed. Arrival and departure arrangements were carefully planned and tour guide accommodated all specific requests. All hotels we stayed in were great and carefully chosen. Fun t-shirt and video with highlights of the season were also included. Very professional operators who tried to make the best out of this experience. Chases were planned on a daily basis and extremely well-coordinated and explained to the guests. Tour guides were bold but within all safety standards. The tour was very exciting, professional, informative and safe, I had the experience of a lifetime and cannot wait to join StormChasingTour.com in upcoming seasons.
Tour guide review
Extremely professional, experienced, friendly and knowledgeable. Tour guide was always willing to engage the guests in the experience, sharing information and getting us all involved in the chasing process, making the best of the weather presented on each day. Highly recommended.
Vehicle review
Perfect vehicle, spacious, comfortable, clean and fully adapted and equipped for chasing purposes. Monitor screens were available for tour guests to easily follow the chase. Complimentary snacks and refresments were included, as well as entertainment options for the long rides (severe weather videos, movies and books) .
Comment on this review
- This review has not been validated -
Name:
SkydiveGirl72
Tour:
Tour #4
Year:
2015
General review
I had such a great time with this group. We got up close and personal with the storms. Our group got to see a tornado on our first day. I was able to get some great photos and video.
Tour guide review
Brandon Ivey not only took us to the storms but taught us about chasing. He made sure to explain what was happening when we were watching the storms and what he was looking for on radar.
Vehicle review
The tour van was comfortable and the tour guide were friendly and professional. It had a setup so we could watch movies or play games on the long ride to the storm. Everyone got a window seat.
Comment on this review