Experienced and Dedicated: Twisted Sky Tours offer 5, 7, and 10 day tours. Our guides have a combined 18 years of chase experience and have chased in a combined 27 states, and are excited to share their experience and knowledge with you as you participate in chasing weather at its fiercest. We are committed to making your storm chase tour as unique as you, by taking a new approach to the average tour. We want you to be more than just our guest; we want you to feel like you are a part of the team. What is Included: Your tour will include lodging from the arrival date of your tour through the morning of the departure date, transportation between the hotel and the airport, complimentary Wi-Fi in the vehicle, as well as bottled water and a cooler will be provided in the vehicle. All State and National Park entrance fees are also included. At the beginning of your tour, you will also receive a logo t-shirt and informational welcome packet. Guest Focused: Because our tours are limited to 6 guests, we can customize the tour to fit guests needs. Each morning we will hold a meeting about the plans for the day. Our goal is to make your tour fun as well as educational. If you are looking for something more than your average tour, come and see what makes Twisted Sky Tours unique. Discounts Available: We offer tour discounts for guests who are on the same tour and will be sharing a room each night as well as discounts for guests who book more than one tour in the same season. -Twisted Sky Tours
Logo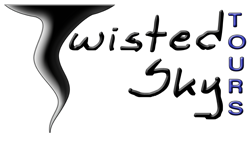 E-mail
info@twistedskytours.com
Phone
320-492-1806 or 815-601-5443
Reviewed by StormChasingUSA.com?
No
Why choose Twisted Sky Tours?
We keep our tours limited to 6 guests so we are able to provide personalized attention to all our guests. We want this to be a learning experience for our guests and will provide briefing throughout the tours to explain things like how to read weather models and how to choose your chase target. We provide all guests with a window seat in the van, their own room at night (unless specifically signed up with a roommate….see website for discounts).
Company name
Twisted Sky Tours, LLC(Sioux Falls, South Dakota)
Scheduled group tours
Tours in 2017
Please note that...
All information given about the tour operator and their tours are second hand information and could be outdated and erronous. The latest, and most correct, information can always found and validated on the Twisted Sky Tours website
The start date does not necessarily mean it is a chase day, although this is typically the case. The end date could be a chase day but typically, it is not.
Do not schedule your flight according to the dates given here. Always double check this with the tour operator before you book your flight!
Prices could be subjected to discounts.
The tours could be full and you may not be able to book it.
Write a review of Twisted Sky Tours
If you have been on a tour with Twisted Sky Tours, please write a review.
Reviews of Twisted Sky Tours
The reviews here have been validated, meaning that the reviewer has proven that he or she participated in the actual tour.
Name:
Chrystal C
Tour:
Tour 4
Year:
2015
General review
I was lucky enough to go on Twisted Sky Tour's inaugural tour. The moment I landed in OKC, there was nonstop action, laughter, learning, creating memories, and making bonds with my tour mates and tour guides. I had such an amazing time that I booked a second tour for the same season and had as much fun as the first time around!
Tour guide review
I've been on storm chasing tours with 2 other companies over 4 years, but in a SINGLE tour with Twisted Sky Tours, I learned so much more than the other tours combined. Shanda and Alec didn't hesitate to answer any small question I may have had. They really took the time to explain to us what was going on and why we were choosing certain target areas.
Vehicle review
On Tour 2, our vehicle was a large SUV which was very very comfortable and high tech. I had more than enough room for all my stuff and always had a window seat. On Tour 4, we had a smaller SUV but I had the same amount of room and window seat. Any sort of problem with the vehicles was dealt with promptly.
Comment on this review
Name:
Photogbrit
Tour:
Tour 2
Year:
2015
General review
I had the most incredible chase experience of my life with Twisted Sky Tours! I've chased twice before I headed out with TS and I can honestly say this was the best trip I've had thus far. Within a few hours of arriving in Oklahoma City tour two was on a tornado-warned storm. We ended up seeing at least four tornadoes and multiple beautiful supercell storms that week, making it my most successful chase week to date. Both guides worked together to get us to the most appropriate storm, and they maintained professionalism when we got to the action. When we weren't chasing, our guides made sure to include guests in downtime activities. We visited multiple cities from Texas to Nebraska, and saw a number of interesting sights. I will be going with Twisted Sky again, and I highly recommend them to both newcomers and seasoned chasing veterans.
Tour guide review
Shanda and Alec have a special way of making you feel like more than just a guest. You really feel like you're a partner and a friend when you chase with these guys. The thing that stood out to me most about these two compared to previous tours is the lack of intimidation I felt when talking about weather. Both made it a point to explain what was going on above our heads. Most tours seem to be a visual experience. This tour is that, but also educational. I learned more during my time with Alec and Shanda than I have in my previous two chases combined. These two work wonderfully together. Alec is phenomenal at positioning, and Shanda is the only person I will ever trust to drive me through storms to get into those positions. They are overall a great team and they were meant to be in the storm chase tour business.
Vehicle review
We traveled in a rented suburban out of Oklahoma City. All six people in the vehicle had plenty of room and options for charging electronics. It became our second home because it was so spacious and comfortable.
Comment on this review