Cloud 9 Tours allows you to safely travel around Tornado Alley in search of the most spectacular storms on Earth. Ride with some of the most experienced storm chasers around. Cloud 9 Tours is the oldest storm chase tour in operation today. We offer two week storm chase vacations in the prime of storm season. You can ride along and be part of the chase.
Scheduled group tours
Tours in 2019
| Tour Name | Start Date | End Date | Price |
| --- | --- | --- | --- |
| Tour 1 | 2019-05-05 | 2019-05-18 | $3100 |
| Tour 2 | 2019-05-19 | 2019-06-01 | $3100 |
| Tour 3 | 2019-06-02 | 2019-06-15 | $3100 |
Please note that...
All information given about the tour operator and their tours are second hand information and could be outdated and erronous. The latest, and most correct, information can always found and validated on the Cloud 9 Tours website
The start date does not necessarily mean it is a chase day, although this is typically the case. The end date could be a chase day but typically, it is not.
Do not schedule your flight according to the dates given here. Always double check this with the tour operator before you book your flight!
Prices could be subjected to discounts.
The tours could be full and you may not be able to book it.
Why choose Cloud 9 Tours?
No information submitted
There are currently no deals or discounts available.
Reviewed by StormChasingUSA.com?
Write a review of Cloud 9 Tours
If you have been on a tour with Cloud 9 Tours, please write a review.
Reviews of Cloud 9 Tours
The reviews here have been validated, meaning that the reviewer has proven that he or she participated in the actual tour.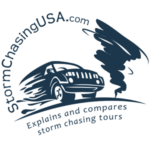 Name:
Christoffer Björkwall
Tour:
Tour #3
Year:
2009
Blogged about the tour:
Read more
General review
I went on my first storm chasing tour ever with Charles & co in 2009 on Tour #3. The first two tours this year had been quite unlucky with several down days but we were really lucky with the weather. We managed to see everything from one spectacular tornado in Wyoming, some beautiful supercells, hail the size of oranges and so on. Cloud 9 tours feels very friendly. It's, to some extent, like going on a tour with friends rather than a company (both for good and bad). I appreciated this but I guess it could be seen as somewhat unprofessional as well. On the negative side, there was quite a difference between going in one van or the other. The driver in one van was always falling behind, which could be **really** frustrating when you are chasing a storm and every minute counts. When we found our tornado, our driver drove much, much further away from the tornado than Charles's van. All in all, I truly recommend going with Cloud 9, you get a lot of bang for your bucks!
Tour guide review
It is of course easier to have a tour when the weather is beneficial but I believe Charles Edwards and Cloud 9 made a good job finding the storms as well. I enjoyed this trip immensely and Charles was an excellent guide. I appreciated that Charles was very eager to respond to my flood of questions. I learned quite a lot by asking but it would have been great to get some of this information beforehand as well. Charles is, I have learned afterwards, very well-known and respected among storm chasers and I can see why. He is also a friendly, fun guy.
Vehicle review
The vehicles were quite decent but still one downside of this tour. When we came in on tour #3 it seemed like they haven't had time to clean out the van from the previous tours. They were not dirty, but a bit messy. Our tour was not full and I can't imagine sitting in one of those vans when they are full. You need a bit of extra space after 14 days in the van! I wouldn't mind having neck support in the seats either, both for comfort and safety. I appreciated that they had WiFi and even a DVD-player. It was cool to be able to tell your friends back home to follow your trip through their web-cam as well.
Comment on this review
Name:
Campbell Rousselle
Tour:
Tour #2
Year:
2000
General review
I'm from New Zealand and I've toured with these guys twice. Once in 2000 and once in 2004 and I can't wait to go again. In 2000 I traveled with a group of roughly 25 people, 2 vans of of 10 participants and 2 lead vehicles with a few extra experts. I really loved this trip. I had never been to USA before and loved traveling around the mid-west. It was great to hang out with lots of new people from America, England and other places. Everyone was really interesting and super nice and the mid-west is beautiful. There aren't any open expanses of flat land in New Zealand, so it was new and interesting. On that trip I learnt a ton about the meteorological effects that create tornados, saw tons of lightning and whilst I only saw 3 small tornados, I was totally hooked and went back in 2004. On the 2004 trip I tagged along on the last day of the previous tour and saw 10 tornados in one day in Kansas, including a massive one. The rest of the trip was just myself an American lady and the tour guide. We saw another 4-5 tornados and got up close and personal with a big one. Charles is super professional and I trust his knowledge of tornados implicitly. He's also really nice and heaps of fun. I can't wait to see him and the other chasers again soon. Chase with Charles and Cloud 9. You owe it to yourself to do something like this at least once in your life. Cheers Campbell Rousselle
Comment on this review
Unvalidated reviews of Cloud 9 Tours
The reviews in this section has not been validated. This means that no evidence has been shown that the person actually was on the tour. Read them with a healthy dose of skepticism.