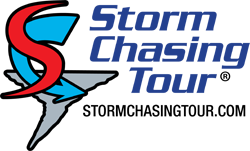 Book a storm chasing vacation with Brandon Ivey from Discovery Channel's StormChasers series. I will get you on the best storms! Brandon has been chasing tornadoes since 1997 and has a degree in meteorology. He was instrumental in helping Sean Casey and TIV2 to obtain footage to complete his IMAX movie "Tornado Alley". Put your trust in me this season, to not only show you the most amazing storms, but to give you the best storm chasing vacation you can possibly get.
Scheduled group tours
Tours in 2024
| Tour Name | Start Date | End Date | Price |
| --- | --- | --- | --- |
| Tour #1 | 2024-04-21 | 2024-04-26 | $2999 |
| Tour #2 | 2024-04-28 | 2024-05-03 | $2999 |
| Tour #3 | 2024-05-05 | 2024-05-10 | $2999 |
| Tour #4 | 2024-05-12 | 2024-06-17 | $2999 |
| Tour #5 | 2024-05-19 | 2024-05-24 | $2999 |
| Tour #6 | 2024-05-26 | 2024-05-31 | $2999 |
| Tour #7 | 2024-06-09 | 2024-06-14 | $2999 |
| Tour #8 | 2024-06-16 | 2024-06-21 | $2999 |
Please note that...
All information given about the tour operator and their tours are second hand information and could be outdated and erronous. The latest, and most correct, information can always found and validated on the StormChasingTour.com website
The start date does not necessarily mean it is a chase day, although this is typically the case. The end date could be a chase day but typically, it is not.
Do not schedule your flight according to the dates given here. Always double check this with the tour operator before you book your flight!
Prices could be subjected to discounts.
The tours could be full and you may not be able to book it.
info@stormchasingtour.com
Why choose StormChasingTour.com?
I have a proven track record of finding tornadoes. My success rate is very high.
I give you the best experience for your money. My tours are not only educational, but I take the time to make friends with each guest.
I have the experience to keep you safe. I want to give you a great show, but I always error on the side of caution to keep you safe.
There are currently no deals or discounts available.
Reviewed by StormChasingUSA.com?
Tour Van
We will be chasing in a 2019 Chevy Express 3500. This van has plenty of room. It is very comfortable for traveling long distances. It received one of the best safety ratings among passenger vans and has plenty of power. This is a 12 passenger van, but we will be limiting the space to 6 guests per tour so each person has a window seat. The vehicle will be equipped with a television for viewing radar and chase maps.
Write a review of StormChasingTour.com
If you have been on a tour with StormChasingTour.com, please write a review.
Reviews of StormChasingTour.com
The reviews here have been validated, meaning that the reviewer has proven that he or she participated in the actual tour.
Unvalidated reviews of StormChasingTour.com
The reviews in this section has not been validated. This means that no evidence has been shown that the person actually was on the tour. Read them with a healthy dose of skepticism.