Weather Adventures offers fully insured, professional storm chasing tours led by a team of experienced guides. With a proven track record, our tours provide a unique mix of education, exploration, entertainment and excitement set against the backdrop of America's Great Plains. You'll learn the basics of forecasting severe storms and about what we use to chase storms safely and responsibly. Ultimately, you'll gain a greater understanding of how storms work as we follow the weather systems traveling across the country during the spring storm season. One aspect of our tours that we pride ourselves in is our ability to create the experience you choose. You can ask us endless questions about storm dynamics and chase techniques, soaking up our extensive knowledge base. You can sit back and relax, soaking up the scenery and enjoying the camaraderie you'll form with the guides and fellow guests. Are you photo-oriented? So are we! We'll share the techniques we use to capture storms in our amazing photographs and video. There is no required interaction, so you can get exactly what you want from our chase tours. We here at Weather Adventures feel that being a guide is more than just being a successful storm chaser – it's about understanding how to let our guests get the most from their tour experience in a safe and unforgettable manner. We keep a 3:1 guest to guide (or better) ratio, so your questions will be answered and your needs addressed. Our tour vehicle is a Chevrolet Express 3500 passenger van. We limit our capacity to 2 guests per row, (and 6 guests per van) meaning you'll have comfortable space and a window seat during our tour. Our van is serviced between each tour and undergoes a safety check before each tour. All seat belts are functional. Our van features complimentary Wi-Fi and outlets to charge your electronic devices. While some tour companies cut their roofs off to "view hail", our experience tells us that our guests prefer something else – staying cool. Our van comes with full Air-Conditioning, with multiple overhead vents in each row. For more detailed information about what to expect, visit our Tour Experience page on our website at http://weatheradventures.net/tour-experience/
Why choose Weather Adventures?
We are one of the very few tours that actually has full commercial vehicle and liability insurance. They know we're storm chasers and we pay for that coverage. Safety is a priority. We know when it's safe to get a bit closer, and when it's best to stay back, but we'll always work our hardest to see tornadoes. We avoid budget hotels and instead prefer to stay at places befitting your hard earned vacation.
info@weatheradventures.com
Reviewed by StormChasingUSA.com?
Weather Adventures, LLC(West Chester, PA)
Scheduled group tours
Tours in 2020
| Tour Name | Start Date | End Date | Price |
| --- | --- | --- | --- |
| Tour 1 | 2020-05-12 | 2020-05-17 | $2250 |
| Tour 2 | 2020-05-20 | 2020-05-26 | $2700 |
| Tour 3 | 2020-05-29 | 2020-06-02 | $2000 |
| Tour 4 | 2020-06-06 | 2020-06-15 | $3600 |
Please note that...
All information given about the tour operator and their tours are second hand information and could be outdated and erronous. The latest, and most correct, information can always found and validated on the Weather Adventures website
The start date does not necessarily mean it is a chase day, although this is typically the case. The end date could be a chase day but typically, it is not.
Do not schedule your flight according to the dates given here. Always double check this with the tour operator before you book your flight!
Prices could be subjected to discounts.
The tours could be full and you may not be able to book it.
There are currently no deals or discounts available.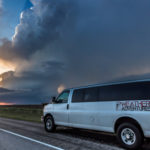 Adventure One
2013 Chevrolet Express 15-passenger Van. Safety Features: - Full shoulder seat belts for every guest. - Reflective tape & signage on exterior of vehicle. - Side passenger airbags - Illuminated flashing cone for night/low visibility situations - Full First Aid Kit Comfort/Additional Features: - Multiple overhead air conditioning vents in each row - Complimentary Wi-Fi - SiriusXM Satellite Radio - Ice Cooler with complimentary bottled water & room for personal drinks -
Write a review of Weather Adventures
If you have been on a tour with Weather Adventures, please write a review.
Reviews of Weather Adventures
The reviews here have been validated, meaning that the reviewer has proven that he or she participated in the actual tour.
Unvalidated reviews of Weather Adventures
The reviews in this section has not been validated. This means that no evidence has been shown that the person actually was on the tour. Read them with a healthy dose of skepticism.