Friday was our last real chase day on the tour since we had to be back in the evening in Tulsa on Day 6 which limited our options. Not that it matter though since Saturday did not have any real storms to offer. Friday was the first day in the week when we did not have a 5% tornado risk, but rather a 2%. In previous tours with worse luck with the weather I had been quite happy with a 2% risk so I did not worry to much.
We had hardly seen any hail during the entire tour (except for the first 30 minutes on the first day) so we agreed to have the goal to at least experience some hail. Our target area was New Mexico but once again we were in the neighborhood (Dumas, TX) so we could take it nice and slow on our way over there. We stopped for example a bit over 10 minutes at the border to New Mexico taking photos.
While driving west from the border the tour guide Chris mentioned we were going to the town of Clayton. Not having my brightest moment I asked "Is that Clayton, Texas?". A few milliseconds later I realized how stupid that question was. I mean, we had just been standing 10 minutes under the "Welcome to New Mexico" sign! 🙂
While the storms were still growing we stopped by the most beautiful church at a small town by Lake Ute. The view was stunning with mammatus clouds in the background and the whole valley behind it. We stopped for over 20 minutes just in awe of the whole scenery, taking multiple photos.
As the storms were maturing we picked a target and started chasing for real. The chase led us up through mountain roads adding even more beauty to the scenery. Unfortunately, we ended up north of the storm again and had very few road options to really catch up. When we finally got around to the southeast corner of the storm it died off – pretty much like the Texas storm on our second day. We did however get to chase in a beautiful environment and saw some really cool hail shafts.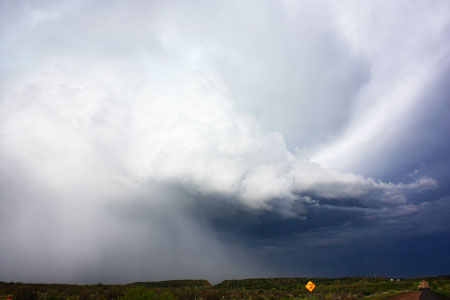 We ended the evening at The Big Texan in Amarillo. At that point I had received news from my chase partner David Williams that he had to work Wednesday to Friday which messed up our chase week. The target for next week was up north which basically left me with no chase option for the upcoming five days!
Luckily enough we had bumped into Randy "Outlaw" Hicks, a friend of Lanny Dean. I asked him if he would be chasing next week and if I could come along and he agreed, to my great relief!