Today was supposed to be a down day/travel day to put ourselves into position for Sunday, which seems to be the most promising day since I started chasing with Weather Adventures. There was a setup in Minnesota/Iowa but it was too far away and iffy. There was however a marginal setup in the northern direction we were going so we went for it.
The cap was quite strong so we went to Devil's Tower national monument for some photos. While looking at it we could see a tower coming up behind it, further away, so we went to chase it. It looked really promising at first but soon there were competing storms and none was strong enough to completely take over so in the end it started to fall apart.
When that happened we returned back to Devil's Tower in hope of getting some cool photos with perhaps the shelf cloud of the storm and/or some lightning. Unfortunately it fell apart too fast so we got none of that but the monument did look cool with the dark clouds in the back.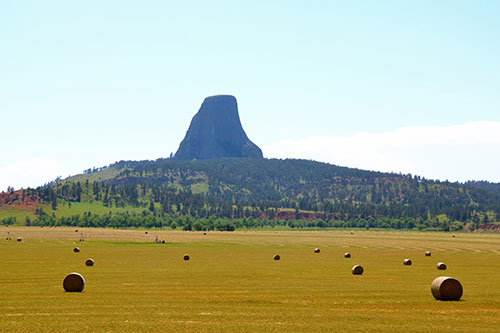 While standing by Devil's Tower I could see a rather large wall cloud form. It even had a tiny little funnel on the wall cloud for a few seconds although the storm in itself was small. So, we went on in that direction.
We continued to our hotel in Belle Fourche SD, and on our way over there we had another interesting encounter. Over a stretch of some 5-10 miles we saw about 70-80 deer on the fields by the road. I have seen plenty of deer while driving in Wyoming but this was insane!
When we got to the storm the sun was setting and the scenery was quite spectacular. The storm was very LP and high based but, for the first time in like 10 days, we had a rotation couplet on the storm which could have resulted in an absolutely incredibly beautiful tornado if it would have realized.
Considering that I wasn't anticipating any storms at all this was a rather good day. In fact, it was the first day this chasecation that ended up better than anticipated.