This was the big day of the tour. Finally, there was a trough coming in to provide some much needed upper air support, and we were to be positioned in South Dakota. The 5% tornado risk of the day pretty much outlined one of my favorite places in the USA in terms of natural beauty: the NE corner of Wyoming, into South Dakota and bits of Montana. Green hills topped with pine trees, creeks, fields and just immense beauty!
The trouble of this landscape is, however, the lack of a good road network. This was definitely not anything new to us as I had been in this area several times before. It was also notable when we started positioning ourselves for the storms that were popping up. We quickly got a good candidate but had somewhat of a hard time getting close and in front of it. When we finally did, it looked really, really good. The base was quite high but the wall cloud was almost sniffing the dirt. We were perfectly positioned, alone on a hill top watching the storm come in. Moments later the wall cloud started rotating rapidly. Despite the disappointments in the last two weeks it felt like we were finally going to see a tornado with this tour as well.
Unfortunately, as on Day 3, the last piece of the puzzle was missing: seemingly the somewhat high base (not enough moisture) or the lack of a boundary to hang on to. The wall cloud never really stayed in a dense shape but rather cycled between a small lowering from the base to a big compact wall cloud.
Still, as the storm looked so impressive we stayed a few minutes too long in our position and when we were heading off to a new vantage point the gravel road network would lead us into a road that had already been rained on and where the core was approaching. Instead we had to take a long detour which delayed us about 45 minutes. During that time a funnel cloud was reported from the storm.
In any other season this would have been the start of a big day and knowing that when the day is about to end, the base will become lower and with a sustained cell it would be more likely to produce a tornado. Today was just as every other day. Before we really caught up with the storm again it had started to become disorganized and started become an MCS. The show was over after one single stop.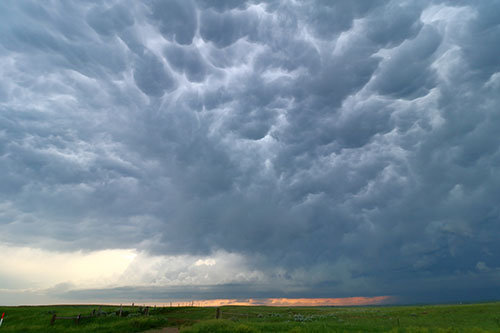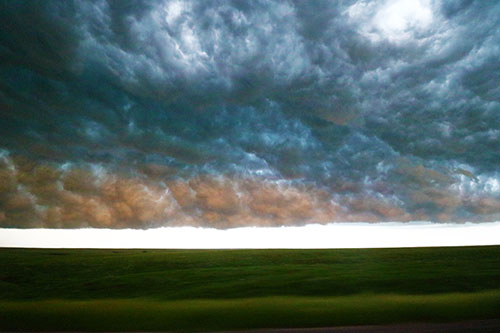 A final nice end to the evening was however an amazing sunset stop and later on another stop to say hi to Pecos Hank who was photographing lightning. Very nice guy with lots of incredible, and funny!, storm videos on YouTube.