This was the typical Day Before the Big Day with a setup that was better than the previous day. Roger's bet was on eastern Colorado but our major concern was if the thick stratus would erode enough to create convection and instability.
I was sitting in Roger's van today and was able to hear a lot of great stories of past tornadoes and other crazy weather events, like when he almost got killed by lightning! As we approached Burlington the stratus was almost gone and the play was on! We had lunch in Burlington, CO, where we waited, and waited…We were hoping for a storm to latch on to the outflow boundary that was coming in. Finally, a candidate appeared and as soon as we could see it latch on to that outflow boundary we were on our way. Roger mentioned on the way up: "I have got a good feeling about this" – he turned out to be right.
As we approached this elongated storm Brian in our van called out for a small funnel in the base of the storm. It was outside of the rather tiny wall cloud so I didn't expect it to do much but it caused the first tornado of the day. We stopped and everyone got out.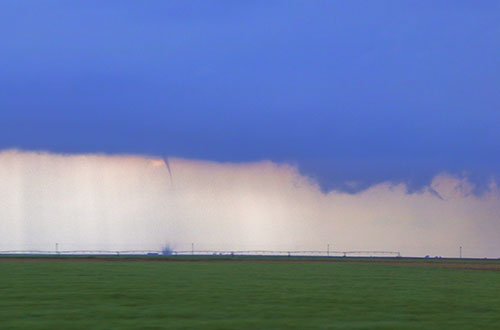 The wall cloud had a dust swirl underneath it that looked like outflow gust but after a while we realized that was a tornado as well. The storm put out two supercellular twin tornadoes as well as at least three land spout tornadoes. The supercellular twins were on the ground for at least 15 minutes and at one point there were even three tornadoes on the ground at the same time! It was amazing!
After a while we drove closer to one of the tornadoes that was crossing the road, to get an upclose view of it but the road ended so we only got one mile away from it. Still, it was quite a view!
Eventually, the tornadoes died out and we repositioned. While doing so we saw what was likely a 6th tornado (land spout). There was rotation on the ground and a funnel above, but Roger wasn't 100% sure of it from our vantage point. We stopped for a few seconds but had to leave as there was rotation just above us!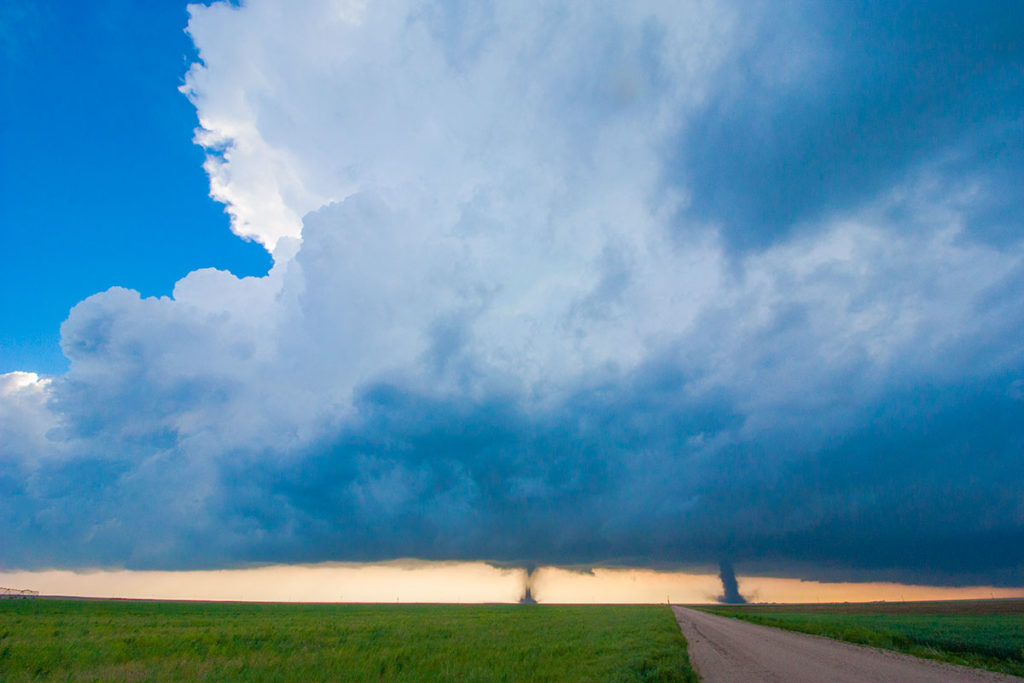 The storm did not produce much more than that afterwards so we left fairly early – but what a day!!