Day 4 was supposed to be our "Big Day", it had been forecasted as such since Day 1, not only by our tour guides but by SPC and most in the storm chaser community. The night before SPC put a 5% tornado risk in southwestern Oklahoma and parts of Texas. Our tour guides did however leave a disclaimer: "Don't get your hopes up too much, the setup is still conditional".
The first thing I did when I woke up was to read the SPC outlook and they had reduced the risk to 2% again, and there was a layer of a thick overcast blanket above us. One of the conditional issues was in fact that there was a risk of morning showers and too little destabilization due to diurnal heating.
During our morning briefing it seemed however that it was mainly a matter of a moved target, further into Texas so we went down south from Woodward, OK.
When we reached the target area we ended up in a chaser convergence gas stop, the good kind. Reed Timmer was there with his Dominator (and very eager to talk to our group), Jeff Piotrowski was there, Tempest Tours were there and a whole other chasers as well. I always love this as you typically run into someone you know, people are happy and excited and the storm day is still "up for grabs".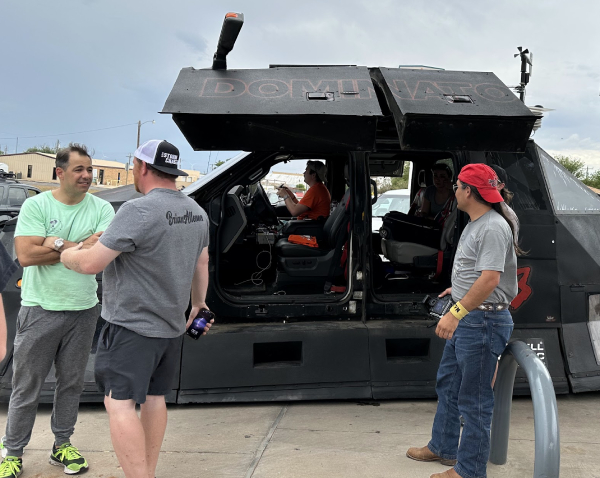 It is always fun when locals come up to talk. A 8-9 year old, really cool, kid rode up to our van on his BMX and wanted to come along to see tornadoes 🙂 After a while, we had a target storm and rode out.
I was very surprised to see how well developed that storm was. It had a robust, low hanging wall cloud, and some upper level rotation, and we were in an excellent spot to watch it. Everyone was really excited and it felt like it was just a matter of time before we would see a tornado. In a way, it probably was, but a competing storm exploded southeast of it, cutting of the inflow and later came crashing into ours. The next time we stopped, the storm was significantly weaker and the show was over for this storm.
Instead we had two options, going south to the southern end of the complex (which is what most chasers seemed to do) or go west to an isolated cell that seemed promising. Isolated cells are typically what you want to go for. This one started off really well, but withered and died to the surprise of the tour guides and me. Possibly the area was too "worked over" by the other storms.
The south end of the storm complex had a steady tornado warning at this point but it was quite far away for us. We did however try to give the possibility of a nice shelf cloud structure (and possibly an MCS tornado) a chance and set up to chase the MCS. We caught up with it just before sunset and got to experience some pretty volatile clouds underneath but nothing really special.
As a whole, this day was a disappointment. You cannot count on a tornado even if it is the "best day", but knowing that my chances of seeing a tornado this season were pretty much done was difficult to digest.