This day turned out much better than our previous bust day. The shear was much bettter and most parameters looked ok. Since we were well positioned in Lubbock, TX, already we didn't have to drive far for our first catch. The storms fired up early as well so we had a long and good chase day in front of us.
There were two "punches" of storm lines coming in and we positioned ourselfes between the southern most "tail end Charlie" and it's larger cousin to the north. The northern one looked quite messy with multiple cells in it but also provided a nice hook. We followed them both and they were really low (dewpoints were 60+ in TX) with clearly developed wall clouds.
Our best catch in the early afternoon was an anti-cyclonic land spout that was visible from far away (I believe it was reported in as a tornado as well). I was a bit unused to my video camera and was struggling to get it on and almost missed it but finally got it on camera.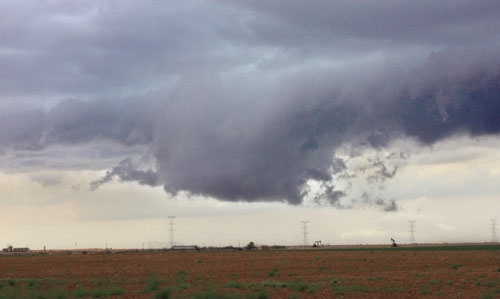 The storms pushed us into the town of Big Spring, TX. We halted near the police station where Lanny instantly ran into the police station to see if they had shelter in case this tornado warned storm would produce a tornado. He also questioned why they didn't have their tornado sirens on because the wall cloud that was coming at us was rotating quite a lot, thus a tornado threat was imminent!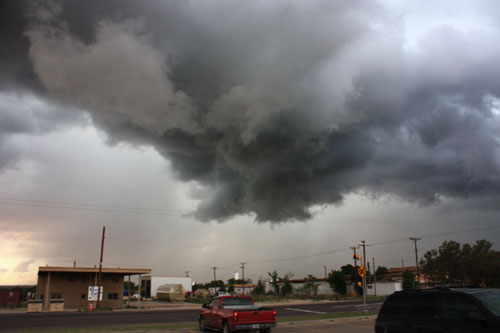 We waited outside the police station while filming and taking pictures of the slowly approaching wall cloud and let it overtake us. It never produced any funnels or the likes of it but the situation was quite intense and despite my better judgement I was really hoping for it to produce a weak (non-destructive tornado) in our vinicity. But no…
Apparently, our stop here caused some commotion in the storm chasing community since other chasers saw that we had stopped underneath the hook for about 25 minutes without moving and guessed something might have happened to us. At that time it was our safest bet since we had a good shelter and continuing on the same road would (according to Lanny) have been a more dangerous decision.
After letting this first punch pass we went on a small trip to find any of that giant hail that was reported but could not really find anything other than severely flooded streets. There had been rain and storms in these parts of Texas for days now so flooding was a constant problem to consider.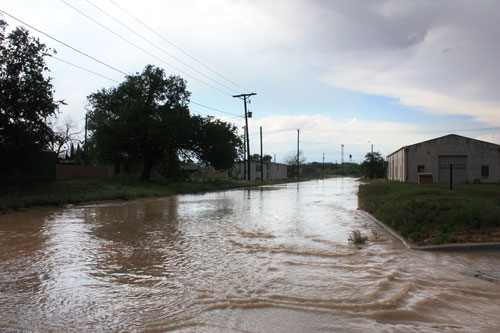 Our next plan was to catch the second punch that was coming in, with more rapidly moving storms. Storms we expected to be more powerful as well. We were pretty much caught between five surrounding storms, many of them tornado warned and all severe. The second punch didn't really create one big supercell and after a while it was clear that our first storm was the best one but since we had let it passed it was very difficult to catch up again, with the less than optimal road network.
We needed to get to the southern parts of these systems but doing so would put us in a difficult position where we would have to either slip between two storm systems and/or core punch one of these High Precipitation hail monsters. Also, going south on these potentially flooded roads would likely cut off our northern route for tomorrow's chase (which was expected to be north of us).
We did go south anyway and managed to slip between the two storms but to no real avail. The best storms were already southeast of us and impossible to catch up on. Apparantly they produced a few very brief and tiny tornadoes but according to what I saw and read afterwards they were merely landspouts.
Our decision to go south made us having to take a looong detour in order to get to Abilene. We had to stay clear of the storms and the flooded streets which eventually made our crew arrive dead tired to Abilene at 3.30 a.m.!