This was the third day of chasing a Slight Risk-area with a 5% tornado risk (according to SPC). We targeted the Texas panhandle and quite early SPC issued a mesoscale discussion for the area. It turned into a Tornado Watch-area sometime after lunch as we drove into Canadian, TX, that seemed to be the play of the day.
While driving in towards Canadian we saw a wall cloud forming and just outside Canadian we stopped to watch. As on cue the storm spit out some 4-5 funnel clouds in those 15 minutes we were standing there. It was nothing like the funnel we saw yesterday, we were well positioned and ready and it was pure joy to watch the storm while hoping for the funnels to touch down.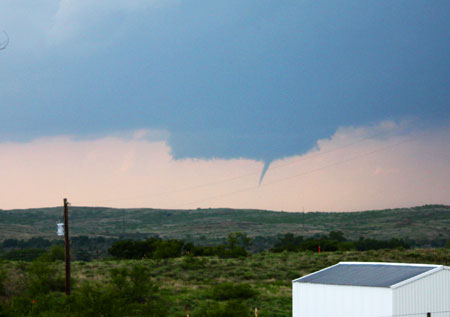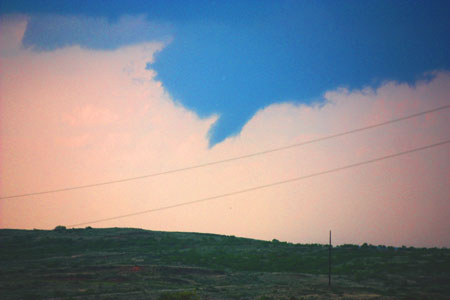 The funnels never touched down so instead we continued closer to the base of the storm to watch the incredible and highly visible rotation of the storm. It was an amazing and beautiful sight and we were just waiting for it to spin up a new funnel cloud or tornado. We had to wait just a little bit longer though. While regrouping we got reports of a tornado on the ground and sped back through town. We could see the cone shaped tornado between the houses and trees but could not really get a good view of it right away.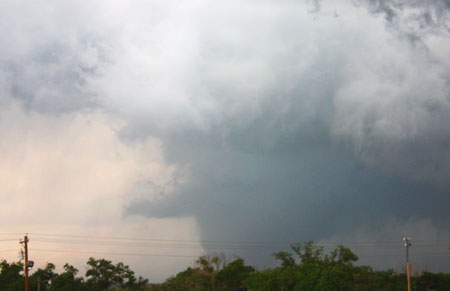 When we found a good spot the tornado was roping out into a beautiful and far stretched snake in the sky. All in all it did not seem like it was on the ground for very long, at most 6-7 minutes. We were glad to catch the first tornado on the tour and to see it at fairly close distance! It was an amazing sight as well, no rain covering it or anything. Wow!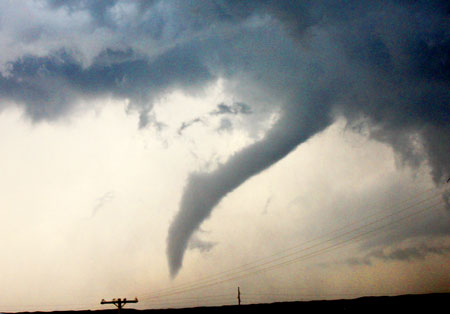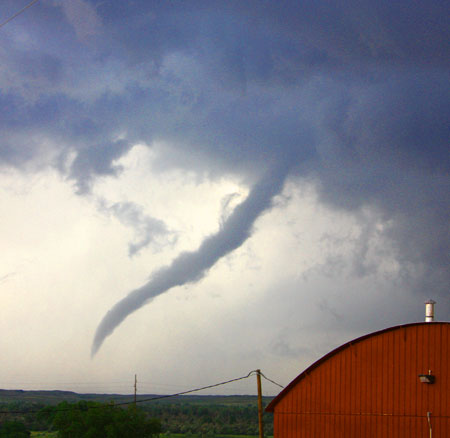 We regrouped once again to a veterinary center just out of town overlooking a field over which the storm was slowly, slowly coming in over us. The storm was so slow it was almost stationary. At that location we saw numerous funnel clouds and 2-3 more tornadoes of which one also had a brief satellite tornado. They were all really brief, none lasted longer than 20-30 seconds but it was all in front of us.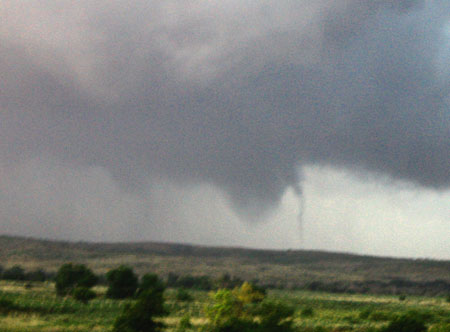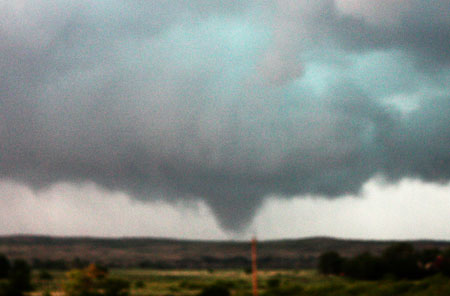 A brief tornado actually touched down very close to us as well, swirling up a few tumble weeds into the air. I did not personally see it but at this point we had seen so much it felt like it didn't even matter! This was my first tornado outbreak and I was happy and satisfied since long. It is not everyday you get to experience a tornado outbreak from a stationary, non-HP-cell!
Up until now our tour guides had been Christopher Howell and Allan Detrich but at this time Lanny joined us for the first time of the tour. He stayed around for our last positioning but at this point the storm had stopped producing funnels and tornadoes. Happy and satisfied we went for the compulsory stake dinner. We celebrated the great day with drinks (Canadian whisky, of course) before finally crashing to bed.