Day 3 was our best hope for a good chase day before a crashing cold front would remove all the moisture from the Plains and cause a couple of down days. The setup was much better than Day 2 with great moisture (60+), good helicity, great instability (2.000-3.000 CAPE in some places) but there were some issues with LCL heights again as well as quite meager 500mb winds. We needed the storms to stay discrete and the whole setup was a bit conditional. SPC put a 2% tornado risk over our area.
We stayed in Burlington, CO, over the night just across the best restaurant in town "The Dish Room" (try it out if you are in town, it's excellent!) where we had dinner on Day 2. Since we liked it so much we went back for lunch on this day. Halfway into the lunch I got a notice on my phone about "Lightning strike within 1 mile of your location", which was odd as the skies were almost blue as we went into the restaurant. We headed out just to notice a storm just above the restaurant. It was really high based but showed signs of turbulence.
We went out to look at it every 5 minutes as we were finishing our meals and after I was done I went out and started a time lapse of the storm while observing it and at this point it really had areas of rotation. Sure enough, after a while a funnel came out of the base and persisted for about 3-4 minutes. As that happened the tornado sirens turned on. We quickly found out, through Twitter, that this funnel was in fact a landspout tornado that touched down just outside of town. It was impressive, especially considering the height of the storm base!
We followed the storm for some 30 more minutes but then had to leave it to pick up Alex in Goodland, KS, who had been arriving late with a rental car. Fortunately, the storm was re-organizing during this time so we did not miss out on anything. So, we picked up Alex and went back out to follow the same storm while, at the same time, keeping an eye on the storm complex behind that looked slightly better but were in a worse environment. We were still in the "Meet and greet" mode when Iva suddenly bursted out: "Hey guys, what is that?!".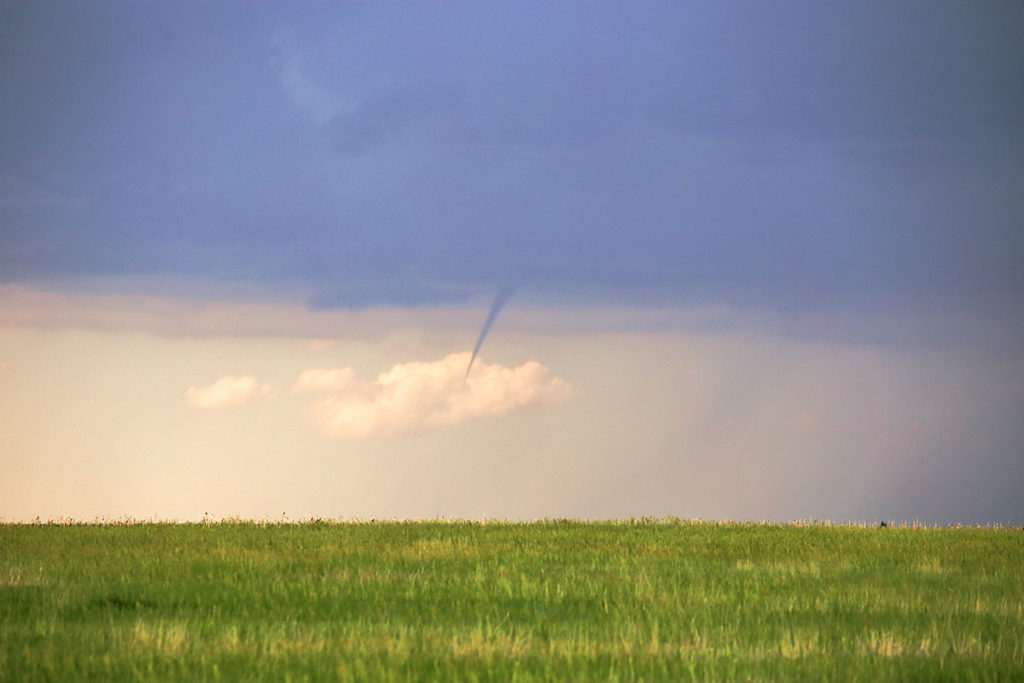 A landspout tornado had developed some 5 miles away but due to this magnificent, flat chase terrain we had a really good view of it. We started speeding on the deserted gravel roads to get closer to it. After a while another landspout tornado appeared and the first one dissipated – and we kept speeding. At the time the second one dissipated we were within maybe 2-3 miles of it but I managed to get some really good photos of it anyway thanks to my telescope lens.
After that it seemed like the storms were getting disorganized and the main storm was struggling. We kept chasing it though as it slowly moved across the fields outside of Goodland into a better environment. At this point we discovered that our 4WD on the 4Runner was acting up and we did not have 4WD anymore. Likely, the car didn't like the speed with which we were chasing that tornado in 4WD!
Finally, the storm started to get its act together and developed a wall cloud as well as a really nice structure. We stayed underneath the storm but the road network made it difficult to maintain a good position. As the structure seemed to improved by the minute we made the decision to go ahead for structure shots as well as keep away from any precipitation that would potentially turn the gravel roads to mud.
We stopped a few miles ahead of the storm and got treated with the best storm structure I had ever seen, even better than Greensburg, KS, 2017. I was in awe of the beauty of it and asked Alex to take a photo of me as I lack portraits of me with storms (which is often requested by media when I get interviewed). Suddenly, he shouted: "Tornado" – and, there it was, another landspout tornado underneath that magnificent storm. I continued to shoot photos to catch lightning with it and managed to get an amazing photo with the storm structure, a lightning and the tornado! The portrait Alex shot of me quickly became my most liked Instagram photo ever.
Visa det här inlägget på Instagram
At that point it was getting dark and we decided to leave, mostly for safety reasons. By doing so we apparently missed out on a nighttime wedge tornado but I am not sure if we would have been able to see it safely and we did not know if our car would break down.
Driving back to Burlington was quite intense as well as we had to drive through very heavy rain and we had a lightning bolt crash down to us closer than I have ever experienced. It could not have been more than 100m away. I could feel the vibrations from the strike in my butt through the car seat! It scared the hell out of me!
Unfortunately, to my great regret, I was not paying enough attention to my camera settings while shooting the camera structure which I was beating myself up about after realizing that. I had kept the camera on f/22 and 2 seconds to capture lightning which was quite unnecessary and resulted in the structure shots to be quite a bit less sharp as they could have been (as can be seen through my iPhone shots). I decided this year to shoot more with Manual mode and now I wish I had gone with the safer semi-automatic Av setting. Still, they do look great and I caught some amazing lightning shots by doing so but I still feel bad for not shooting at least one pure structure shot!
Chase date: June 8th 2019. Mostly around Goodland, KS.