Compared to Day 3, this was a day of quite low expectations. Our plan was to go to the Mesas around NE New Mexico, SE Colorado and OK panhandle to possibly watch some nice structured LP supercells. In the morning, the parameters actually changed for the better. We had even better shear than yesterday and the CAPE was a 2.500. SPC had put a 2% risk over our area – so we had a bit of hope for something significant.
The storms was to come in from New Mexico so we went far into the OK panhandle and a bit into New Mexico to watch. We could see some promising storms coming in and stood by a country road, all by ourselves, watching in a beautiful and incredibly flat landscape.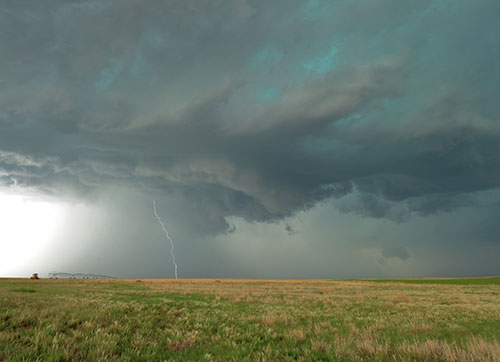 The storms were really high based and was never really impressive as long as they were in New Mexico (which was to be expected, the good air was in Oklahoma) but the one cell we started chasing became a lot better looking as it got in to Oklahoma. We even saw a great looking cone shaped wall cloud with what seemed to be a funnel coming out.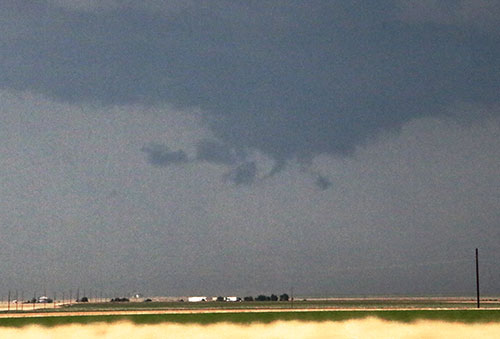 Unfortunately, the road network was horrible with only a few gravel roads as well as the storm speeding up so we got stuck playing catch up. As Roger said, when you start playing catch up with a storm you typically never stop doing that. This turned out to be mainly true and we chased and chased for over 2 hours before almost catching up. Once we reached Spearman, TX, we gave up and let it pass over us. It was quite impressive to let this hail monster with 3 inch hail pass to our north with some very strong wind coming at us.
We went up to the backside of the storm, at first to look for giant hail but instead stopped to look, and photograph, the impressive lightning that was going on.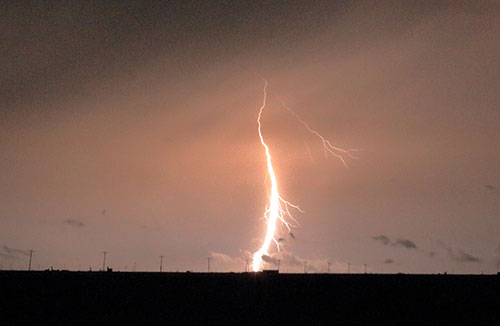 It was a great supercell to chase but trying to catch up with a storm is not that great. You don't have time to stop and take photos, go to the bathroom or anything but that's just the way it is.